Supporting live comedy is obviously something that I encourage everyone to do. Don't be satisfied with watching it on TV, where there's none of the atmosphere or spontaneity. If you've never seen live comedy, then look at the gig guide or the festival guide, and go and see some. If, however, you are already a live comedy fan, you might not be able to get to live comedy as often as you'd like. Or you can't afford to go to live comedy as often as you'd like. Perhaps you've watched all of Stewart Lee's Comedy Vehicle several times and you can't stand Live at the Apollo. Well, I would like to encourage you to embrace the wonderful medium of podcasts.
Podcasts, as I regularly inform anyone who will listen, offer a huge range of original content which isn't constrained by the rules and schedules of radio or television. Unlike the equally accessible world of Youtube vlogging, podcasting attracts intelligent, interesting and hilarious people who create free content for us all to enjoy. Although they share part of their name with the iPod, podcasts are neither Apple owned nor Apple exclusive. They can be streamed and downloaded and listened to on many different portable devices as well as PCs. iTunes does act as a good program to download podcasts with and the iTunes store has a podcast chart which is a good place to start for those new to the medium, but Apple does not have a monopoly. If you'd rather avoid iTunes, there are many other good podcast clients available such as Stitcher and acast. I could spend hours gushing about This American Life, Serial and Stuff You Should Know, but as this is the comedy section I'll restrain myself to giving you a beginner's guide to comedy podcasts.
Answer Me This!

Answer Me This! is the original comedy podcast. The premise is simple but effective; send Helen, Olly and Martin the Soundman a question and they will do their best to answer it. This results in factual questions whose answer is eluding the listener, agony-aunt style questions about moral dilemmas, and a lot of etymology. The show is really made by the wit and rapport of the presenters, as veteran podcasters they've got the format down to a T and every episode is amusing and interesting in equal parts. The latest episode is number 312 and every episode is upwards of half an hour long, so there's a lot to catch up on. They're now released fortnightly.
Pappy's Flatshare Slamdown
All the fun of a TV panel show without all the artifice of a TV panel show.
Pappy's Flatshare Slamdown, much like all the other output of sketch trio Pappy's, is pure unadulterated fun. This show will introduce you to the curse of the podcast listener: when you are out and about, going about your daily life, listening to a podcast, you will begin to laugh, and you will get a lot of odd looks from strangers. The show comes in series typically lasting four to six episodes and each episode features two special guests. Past guest have included Bridget Christie, Tim Vine and Nick Helm.
Richard Herring's Leicester Square Theatre Podcast
Richard Herring is a behemoth of comedy podcasting,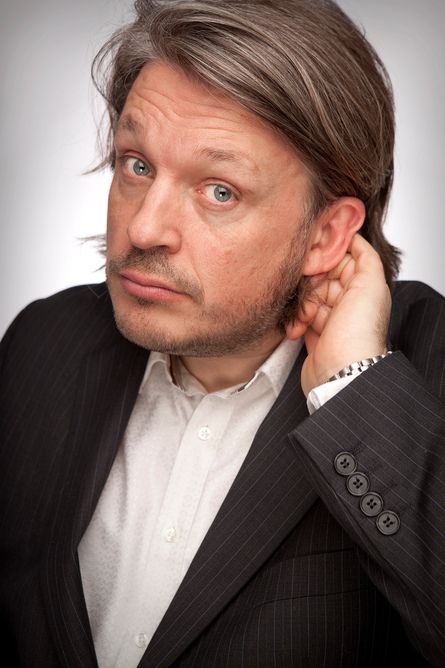 with a vast output which covers a sketch show called As It Occurs to Me, a stand-up show called Richard Herring's Meaning of Life, and a surreal one-man snooker podcast called Me1 vs Me2 Snooker. His Leicester Square Theatre Podcast (or RHLSTP, as the cool kids call it) is an interview podcast in which Richard conducts in depth interviews with fellow comedians.
The Comedian's Comedian Podcast
It would be sacrilege not to mention The Comedian's Comedian
Podcast AKA Comcompod. Hosted by Stuart Goldsmith, this was originally intended to be a repository of stand-up knowledge for those wishing to learn about the art from a whole host of professional comedians. It serves this purpose very well, but it is also makes fascinating listening for any comedy fan who wants to know a bit more about the comedy industry and the people in it.
The Russell Brand Podcast
I was thrilled to learn that, earlier this year, The Russell Brand radio show had
returned to life in the form of a podcast after its untimely demise seven years ago. Brand may not generally be your cup of tea, but the podcast sees him reunited with co-host Matt Morgan. The dynamic between the two of them, with Morgan taking Brand to task over his behaviour and the two (belly) bouncing off one another, is what makes the show work so well. The podcast is exclusive to Audioboom.
Bordeaux Diaries
Here's a cheeky little plug – try Bordeaux Diaries, my podcast in whi
ch I chat to DMU's Callum Taylor on his year abroad in France. There are many humorous anecdotes (like when Callum sat in a hotel, alone, crying as he read Lord of the Rings) and an interesting look at the culture shock of Erasmus years. Click here to have a listen.