Festival season is fast approaching which means that there are many opportunities to see some great comedy over the summer months.
Many of the big music festivals also have comedy stages and, although comedy doesn't always lend itself to the atmosphere of a music festival, they can draw some big names. There are also some Comedy Festivals, and, of course, the biggest arts festival in the world; the Edinburgh Festival Fringe. Here's a quick lowdown on what the festival scene has to offer this year:
Machynlleth Comedy Festival: 1st – 3rd May
Machynlleth – Mach Comedy Fest to those struggling with pronunciation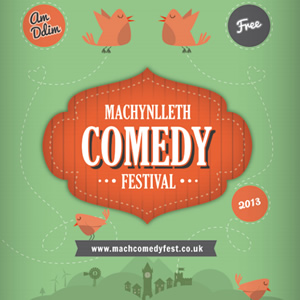 – has been making a name for itself as a small but friendly and high quality boutique comedy festival. The welsh festival is like a perfectly curated greatest hits album of the comedy circuit. This, its fourth year, will see performances from Bridget Christie, Stewart Lee, Pappy's, Simon Munnery, Robin Ince, and many more. You can find out more at machcomedyfest.co.uk.
Latitude: 16th – 19th July
Latitude is a music and arts festival.
A lot of music festivals tack on comedy stages in a slightly half hearted manner, but Latitude is a sprawling wonderland of comedy, poetry, theatre, literature, music, crafts, the list goes on. This is a great atmosphere for comedy as it is so rarely contained within the strict genre of 'stand-up'. As well as household name headliners such as Jason Manford and Alan Davies, the Suffolk festival features Robin Ince and Josie Long's Utter Shambles podcast, the theatrical and poetic comedy of Tim Key, and Radio 4's Jack Dee's Help Desk. You can find out more at latitudefestival.com.
Green Man: 20th – 23rd August
Despite clashing with Edinburgh, Green Man festival
has managed to procure a high quality comedy offering for their idyllic event in the Brecon Beacons. They assure us that there are many more to be announced, but at the moment I'd be particularly excited for Gavin Osborn, Dan Nightingale and Rob Deering. You can find out more at greenman.net.
Edinburgh Festival Fringe: 7th August – 31st August
It's the one you've all been waiting for, the big daddy of festivals,
the one and only Edinburgh Festival Fringe. If you like culture then you have to go. If you don't like culture then you have to go, because your mind will be changed. 2014's Fringe featured over 3,193 shows from 51 countries in 299 venues, so it's safe to say that there's something for everyone. An entire city, for an entire month, becomes home to every form of performance in existence, as well as creating some new ones along the way. This isn't a closed shop which books performers, anyone can perform at the Fringe, it is the most eclectic, inclusive event I have ever had the pleasure to attend and be a part of.
The festival is so gigantic that it seems ridiculous to start cherry picking acts you should go and see. You need to order the programme and get your highlighter ready. Find out more at edfringe.com.